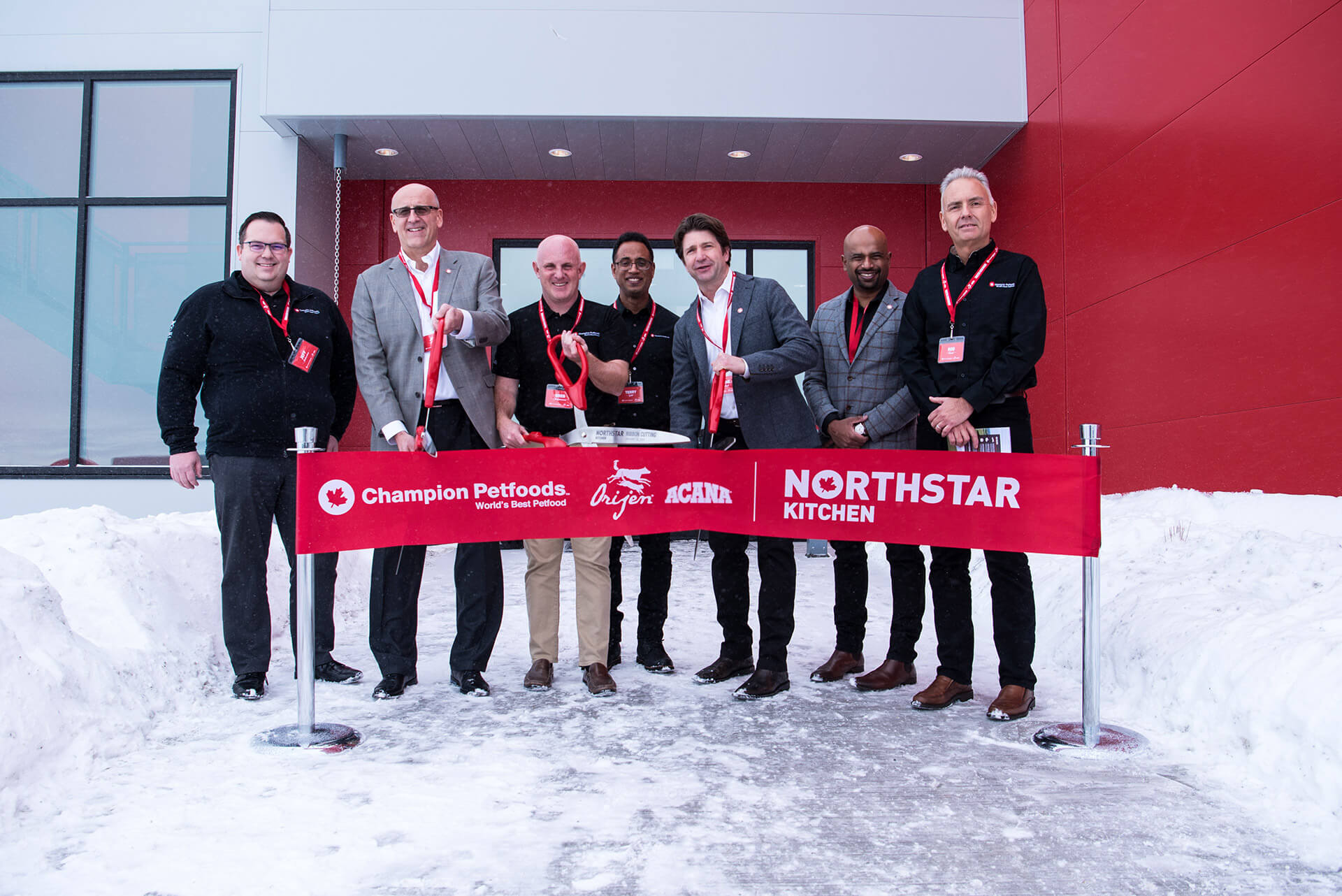 January 23, 2020
Champion PetFoods NorthStar® kitchen ribbon cutting
ACHESON, AB, January 23, 2020 – Champion Petfoods, makers of the award-winning ORIJEN and ACANA dog and cat food brands, held a ribbon cutting ceremony to celebrate their new 421,000 sq. ft. state-of-the-art NorthStar Kitchen. The new Kitchen will support Champion's global position of pet food innovation and will help the company meet the brands' growing demand in nearly 100 countries.
"The NorthStar Kitchen brings the world's best pet food technology back to where our story began, right here in Alberta," said Blaine McPeak, Champion CEO. "Alberta's world-class suppliers, skilled labour force and friendly investment climate provides Champion the opportunity to continue to invest and grow here at home."
"With the NorthStar Kitchen now complete and operational, Champion Petfoods is ready to take on new opportunities," said Minister of Economic Development, Trade and Tourism, Tanya Fir. "Tremendous benefits will result from Champion's presence in Alberta for many, many years to come. Our government looks to the future with confidence, optimism, and great anticipation of Champion Petfoods' continued success."
"Champion has successfully marketed great, Alberta-made products in the highly competitive international pet food market," said Minister of Agriculture and Forestry, Devin Dreeshen. "Their commitment to sourcing local ingredients, providing local jobs, and supporting the local economy is outstanding."
At operation the kitchen will employ approximately 200 employees and greatly enhance Champion's capacity. As a global food safety leader, the kitchen was custom designed and fitted for safely handling multiple fresh and local ingredients. Like its ingredients, Champion is committed to sourcing the highest percentage of procurement of construction, equipment and services regionally which resulted in a construction material spend of 93 per cent in Alberta and 97 per cent in Canada with 375 construction jobs on site at peak of construction.
About Champion Petfoods
From its humble beginnings as a small part of a thriving animal feed manufacturing plant, Champion Petfoods has grown to become one of the world's most respected and best-loved pet food companies in the world.
Based in Alberta, Champion Petfoods LP is a Canadian specialty pet food maker with a 34-year tradition and reputation for innovation and leadership among pet lovers and pet specialty retailers worldwide. We make Biologically Appropriate™ pet food from Fresh Regional Ingredients that are Never Outsourced.
As Canada's largest independent pet food manufacturer, Champion Petfoods' foods are found in nearly 100 countries. Brands include ACANA and ORIJEN Dry Foods and ORIJEN Freeze-Dry Foods and Treats. Champion only makes its award-winning foods in its own kitchens.
For more information on this news release, please contact:
Rosa Ellithorpe
Senior Consultant, Navigator Ltd.
[email protected]